Andalucia Attractions – Plenty to see and do in Andalucia
Andalucia attractions. The region of Andalucia in the south of Spain is an absolute goldmine for tourists. For this reason Andalucia has so many claims to historical Spain that it would be hard to know where to start? Towns and cities made famous by writers such as Laurie Lee, Ernest Hemingway, Orson Welles and many more, these are close to Villa Rocio.
I think, the easiest way, would be to start with the closest, this would be the historical town of Archidona (pronounced Archee-don-na) and is about 15 minutes drive from Villanueva del Trabuco.
Archidona
Archidona is a town and municipality in the province of Málaga, part of the autonomous community of Andalusia in southern Spain. It is the center of the comarca of Nororiental de Málaga and the head of the judicial district that bears its name. More details.
Antequera
Antequera is a city in Andalusia, southern Spain. It's known for its ancient burial mounds, including the Dolmen de Menga, Dolmen de Viera and Tholos de El Romeral. The Alcazaba of Antequera is a centuries-old Moorish fortress. The vast nature preserve of Torcal de Antequera has dramatic limestone tower rock formations. Overlooking the town, Peña de los Enamorados is a distinctive, face-shaped mountain. See more.
Cordoba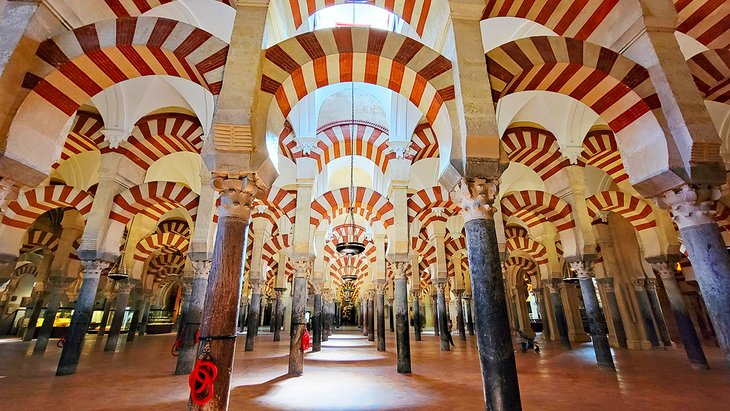 Córdoba is a city in the southern Spanish region of Andalusia, and the capital of the province of Córdoba. It was an important Roman city and a major Islamic center in the Middle Ages. It's best known for La Mezquita, an immense mosque dating from 784 A.D., featuring a columned prayer hall and older Byzantine mosaics. After it became a Catholic church in 1236, a Renaissance-style nave was added in the 17th century. More.
Granada
Granada is a city in southern Spain's Andalusia region, in the foothills of the Sierra Nevada mountains. It's known for grand examples of medieval architecture dating to the Moorish occupation, especially the Alhambra. This sprawling hilltop fortress complex encompasses royal palaces, serene patios, and reflecting pools from the Nasrid dynasty, as well as the fountains and orchards of the Generalife gardens. About Granada.
Nerja
Nerja is a resort town along southern Spain's Costa del Sol. Its seafront promenade, Balcón de Europa, tops a promontory with views of the Mediterranean and surrounding mountains. Below it lie sandy beaches and cliffside coves. Cueva de Nerja, a nearby cavern with unusual stalactites and stalagmites, hosts popular summertime concerts. It's also known for its paleolithic paintings, viewable by guided tour. More about Nerja.
Ronda
Ronda is a mountaintop city in Spain's Malaga province that's set dramatically above a deep gorge. This gorge (El Tajo) separates the city's circa-15th-century new town from its old town, dating to Moorish rule. Puente Nuevo, a stone bridge spanning the gorge, has a lookout offering views. New town's Plaza de Toros, a legendary 18th-century bullring, is one of the city's most recognizable landmarks. Ronda information.
Valencia
I couldn't miss out Valencia. I decided I would use this excellent video rather than a load of descriptive text and a link to another page. I hope you enjoy this video.
Costa del Sol
The Costa del Sol is a region in the south of Spain, in the autonomous community of Andalusia, comprising the coastal towns and communities along the coastline of the Province of Málaga.
Along the Costa del Sol you will find many famous Andalucia attractions, Malaga City, Fuengirola. Torremolinos, San Pedro de Alcantara, Marbella, Estepona, Velez -Malaga, Torrox, Nerja, Maro, La Heradura, Benalmadena and many more. There are also more than 50 golf courses and several water parks and Zoo's.
The Costa del Sol has so much to offer and is just 45 minutes away from Villa Rocio. Check out this great travel site to give you some ideas of places to visit.
For more information on places to visit and other Andalucia attractions, please contact us.